Jeep 4xe Electric Charging in WV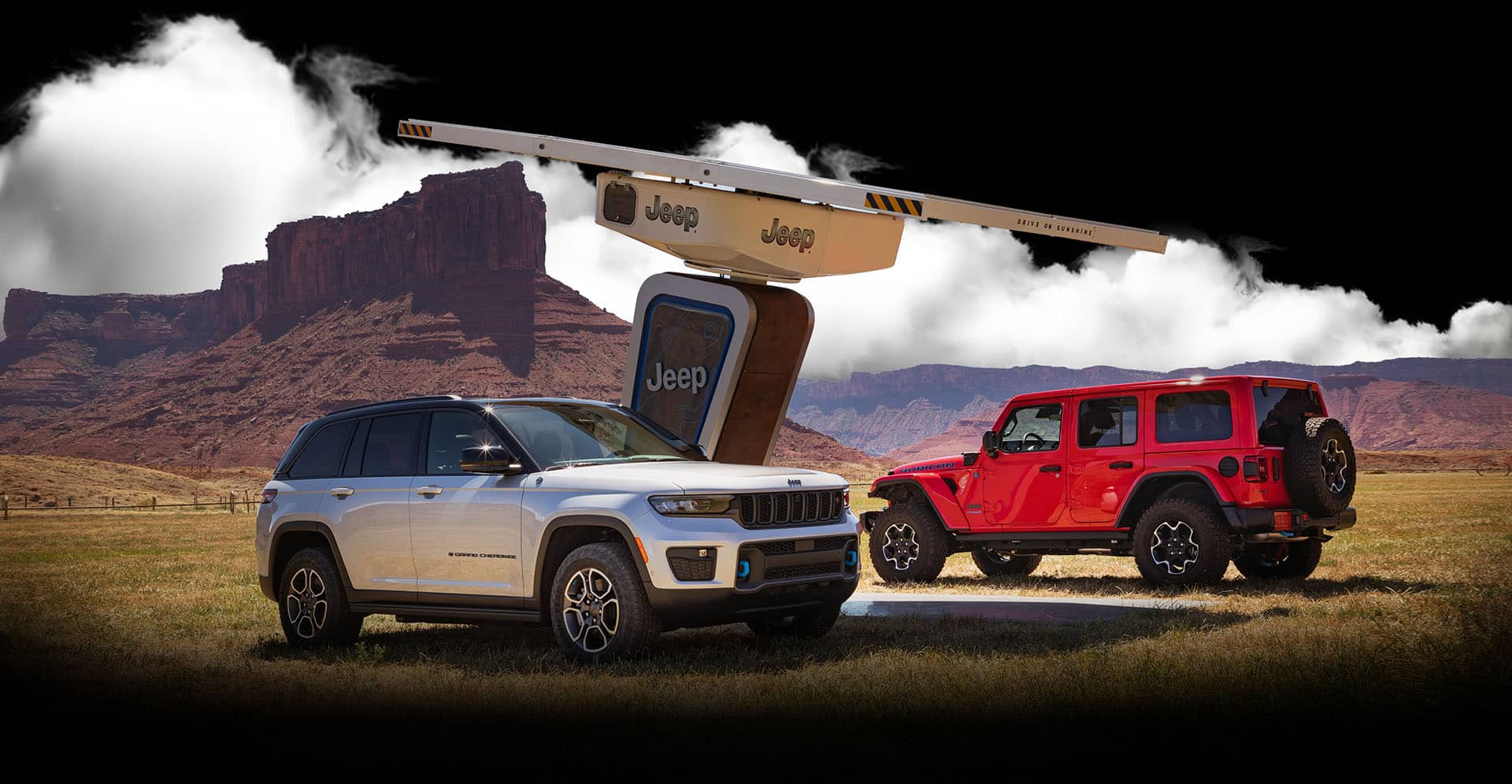 Jeep 4xe Electric Charging in WV
Jeep hybrid SUVs can harness the power of electricity, bringing you incredible capability, performance, and efficiency. Plug-in hybrid technology is the first step in Jeep's mission to offer a full line of zero-emission SUVs. In addition, Jeep's 4xe technology provides the performance you need to power your adventures to incredible heights. The hybrid gas and electric powertrain work in tandem to deliver legendary and uncompromised capability. Take advantage of 25 miles of pure EV driving on Grand Cherokee 4xe.
How long does it take to charge an electric Jeep?
A powerful 17.3 kWh battery lies at the center of each Jeep 4xe vehicle. With this battery and a Level II charger, drivers can replenish its energy in only two hours fully. This quick charging feature allows you to get back to your all-electric adventure. Travel confidently wherever you go, thanks to the uncompromised capability that maintains the spirit and authenticity of your Jeep.
Can I take my electric Jeep in the water?
Jeep's 4xe batteries are safely sealed behind a waterproof casing to help you traverse bodies of water up to 31.5 inches deep. That means every Jeep 4xe offers the same water fording capability as its gas-powered counterparts, sacrificing nothing. So travel through remote landscapes with nearly silent performance when in Electric mode and take advantage of the 21-mile all-electric range on Wrangler 4xe. Plus, with access to Level II charging station locations, it's easy to plan your route and recharge along the way.
The most capable Wrangler ever
Jeep electrification takes legendary Wrangler capability to new heights. The Wrangler 4xe is equipped with a PHEV powertrain with a 2.0L DOHC DI Turbo I4 engine that delivers 375 horsepower, 470 pound-feet of torque, and goes 0-60 mph in 6 seconds. Plus, this electrified SUV offers up to 31.5-inch water fording capability.
The most awarded Grand Cherokee is now electrified
We've added incredible electrified power to the sophistication and versatility of Grand Cherokee. Featuring two electric motors, it delivers an outstanding towing capacity of up to 6,000 pounds and next-level capability. Grand Cherokee 4xe offers everything you expect and more with 4xe plug-in technology.
What can i charge my Jeep in Parkersburg WV?
The city of Parkersburg in West Virginia has 33 public charging stations, 5 of which are free EV charging stations and  6 DC Fast Chargers. The top-rated charging locations in Parkersburg, WV, are Parkersburg Supercharger, Peoples Bank, Hampton Inn, Townplace Suites, and Pickering Associates.
Electric Jeep for Sale Near Me
If you would like to learn more about Jeep's impressive electric SUVs, head to Astorg CDJR, where your needs are always our first priority. Our various teams are trained to address your needs from the moment you walk through the door, whether in the market for your next vehicle or tuning up your current one. However, being able to solve our customer's needs is not enough for us. You see, at Astorg Chrysler Dodge Jeep Ram FIAT, we still believe that personal touches make a world of difference to our customers.